To make a reservation for The Tropics Boat Tours, use the link in your CITY PASS® ticket email to make a reservation.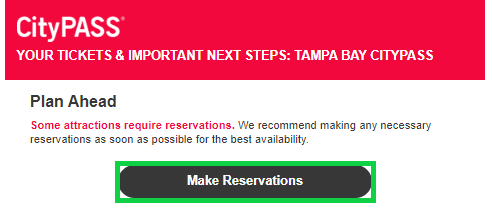 If you do not have a CITY PASS® ticket email, you can find the Travel Guide at citypass.com/guide. Select Tampa Bay, then Reservations & Entry. (Note that if you access the Travel Guide without using a CITY PASS® ticket email, you'll need to enter your email and either a QR code number, barcode number, or order number before making reservations.)

Scroll to the "The Tropics Boat Tours Dolphin or Sunset Cruise" section of the Travel Guide. Select "Reserve Time."

You will be leaving the CITY PASS® Travel Guide. Select "Reserve Your Time."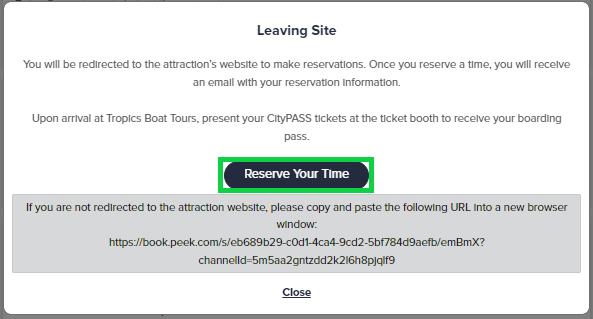 Selected desired cruise type.
Select the date and time.
Select the number of adults, children, and infants. Enter your Fist and Last Name, phone number, and email. Select CityPASS® for the "If you booked through a third party, choose your third party below" option.
Select submit and the reservation will be confirmed. Tickets will be sent by email.